This version of "Let's Go Band" for clarinet is my favorite thing to do with my clarinets at the end of the year!
Now, I know what you're thinking.
Really?
Let's Go Band?
Come on.
But I promise this version is a great TEACHING version! I made it a couple years ago in May – I loved it and the kids really loved it!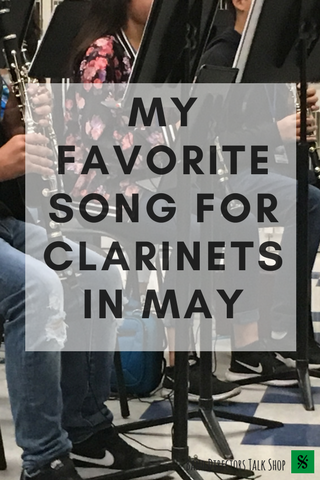 Here's what it teaches/reviews:
Chromatic Fingerings – Woohoo! After drilling these chromatic fingerings all year, the kids get to use them in a super fun song. Here's what it covers:

sk F#

outside left C#

Banana F#

Banana B natural
Range – The last line takes the kids up to a high C# & D above the staff. Most years I get to that on the chromatic, but if you haven't yet, this is a way to introduce it. If only a couple of your kids are ready for it, you can have most of the kids play line #2 again while the ones that are ready can go for #5.
Why it's fun:
It's "Let's Go Band," what more can I say?

I have them shout "Let's go Band" at the end of each line. And I mean shout it! That changes up class a little bit.

 

🙂
I tend to have them play it in more of a 'swing style' (1,3,1,-te-te) Let them really 'groove.'

One more idea – Explain to them that the intervals stay the same in a song and when you change the starting note you just adjust the following notes. See if they can make up the tune starting on another note. Great ear training!
You can also try this song with older students when they return in September – it's a great review! Hope this version of "Let's Go Band" for clarinet is as big of a hit with your students as it was with mine!

For more on clarinet fingerings, read these 2 posts:
4 Rules to Choosing the Best Clarinet Fingering (PDF handout for students of the 4 rules)
The Clarinet Law of Minimal Motion
CLARINET PODCAST & RESOURCE WEBSITE
A 1999 music education graduate of WTAMU, Tamarie Sayger held band director positions in Plano and Odessa, TX for 5 years. As a private clarinet instructor in Texas for 16 years, she has taught hundreds of students from grade 6-12 in classes, sectionals, and individual lessons. She has presented at district in-services and co-presented at the Texas Bandmasters Association convention. Her website, CrossingTheBreak.com, provides resources for clarinet teachers around the country. Mrs. Sayger is also a core contributor for BandDirectorsTalkShop.com, primarily on the subjects of clarinet and private lessons. Her podcast, Crossing The Break, can be found on iTunes.
For information on saxophone fingerings, read these 2 posts:
There's a Time and Place for Every Fingering -Saxophone Bb
There's a Time and Place for Every Fingering – Saxophone C & F#
For more fun end of year activities:
Why You Should Play the Method Book in Cut Time
Would You Rather Band Version
If you would like to receive our weekly newsletter, sign up here. 
Don't forget to like us on Facebook too!
Learn. Share. Inspire.
BandDirectorsTalkShop.com